Many times, West Iceland has ranked among the world's top regions to visit, and for a good reason. West Iceland combines the most magnificent and diverse attractions Iceland has to offer: towering mountains, stunning glaciers, volcanic craters, adorable fishing harbors, and black sand and white sand beaches, all in a small peninsula within northern Atlantic. We can just say that a trip to West Iceland will delight you. Whether you visit Iceland when it's gray and raining or when there is near-perfect weather, you will still see beautiful things. 
West Iceland has so much to offer, making it challenging to narrow down the list. These are some of the hidden gems you can behold when visiting West Iceland:
This is the second-highest waterfall in Iceland. It reaches a cascade of around 650 feet (198 meters). For years, Glymur Waterfall was considered the tallest waterfall in the region until Morsajokull, a newly measured waterfall, outreached it. It can be a bit challenging to access this waterfall. It involves using some chains for assistance as you hike on the steep sections. You also have to cross some rivers during the hike; therefore, you should be careful to avoid injuries. 
If you are up for this West Iceland treat, you will hike for around one hour to get a magnificent view. The waterfall appears to fall into a canyon covered with moss. We promise that the hike is worth it. 

Krauma Spa
Taking a dip in the Krauma Spa is among the top things to do in West Iceland. It gives you the perfect opportunity to experience nature from its core. The natural geothermal baths and spas are open all year round, meaning you can relax and enjoy yourself anytime. Krauma has five warm baths and one cold. The rapid natural flow of the springs constantly replaces the water; no chemicals are needed to keep the water clean. The spa features a restaurant, separate lockers, and a changing room to ensure you enjoy your time there. You will enjoy the pristine outdoors, sumptuous traditional cuisine, and the steaming or cool pools. 
Kirkjufell Mountain 
You should definitely add Kirkjufell mountain to your itinerary if you are visiting West Iceland. This 463-meter mountain is located on the northern island of Snaefellsnes Peninsula. This mountain is said to be the most photographed site in entire Iceland. Standing tall above the tiny fishing town of Grundarfjordur, Kirkjufell Mountain has ranked among the ten most beautiful mountains in the world. Because of its distinctly-shaped peak, the mountain is sometimes known as the "church mountain." Visitors love its dramatic formation and strategic coastal location.
The Kirkjufell mountain was also featured in season 6 on the hit tv show Game of Thrones.

Take a Bath at Gudrunarlaug 
You cannot explore all the hot pools in Iceland; this could take forever. Therefore, we are only recommending the best. Gudrunarlaug derives its name from one of the renowned heroines in the Icelandic Sagas. The pool has a changing room located close to it, unlike most natural geothermal baths in Iceland. The pool is fairly warm, with temperatures reaching roughly 100 degrees Celsius. The geothermal pool is clean and free. You should not worry even if you notice some algae on top of the water. This alga is actually good for your skin. 
Visit the Deildartunguhver
By now, you already know that there are numerous hot springs in Iceland. Deildartunguhver is a hot spring in West Iceland, popular for its hot water and high flow rate. Here, temperatures reach as high as 97 degrees Celsius. This hot spring is popular for being the highest-flow hot spring in entire Europe. The flow is around 180 liters per second. This makes the hot spring one of the most popular destinations in West Iceland. 
The water rises with high ferocity, heating many Icelandic homes around the area. However, you should be careful, since the water here is too hot. It could be dangerous if you venture very near. You can't bathe here; there are several observation decks and walkways from where you can observe the hot spring. 
Visit the Snaefellsjokull Glacier
The Snaefellsjokull glacier, located on top of a volcano, is a must-see when touring West Iceland. The glacier overlooks the entire peninsula like a watchman. The book "Journey to the Center of the Earth" derived its inspiration from this glacier. Even if this glacier may seem small by Icelandic standards, it is definitely worth the stop. It is the only glacier in the entire Snaefellsnes Peninsular; therefore, you have no excuse not to visit it. The view is unique; you should check it out if you have an opportunity. 
Vatnshellir Lava Cave 
Another perfect place to see is the entrance of the Vatnshellir Lava Cave. The Lava Cave lies in Snaefellsjokull National Park. This attraction is more than 8000 years old; it is a must-see, especially if you are fond of nature and history. You can take advantage of guided tours during summer, which is offered between 10 am and 6 pm. The tours involve exploring the underground tubes of the Lava Cave. You must wear the proper safety gear to explore this cave. 
Budir Black Church 
The Budir black church is also a common destination in West Iceland. It is a haven for photographers. The church contrasts the rough nature of Iceland due to its black color and the cloudy mountain in its background. Most churches in Iceland are painted black with a pitch to shield them from harsh Icelandic elements. This contrast provides a perfect spot to take photographs. The church is pretty easy to find because you can see it from far away.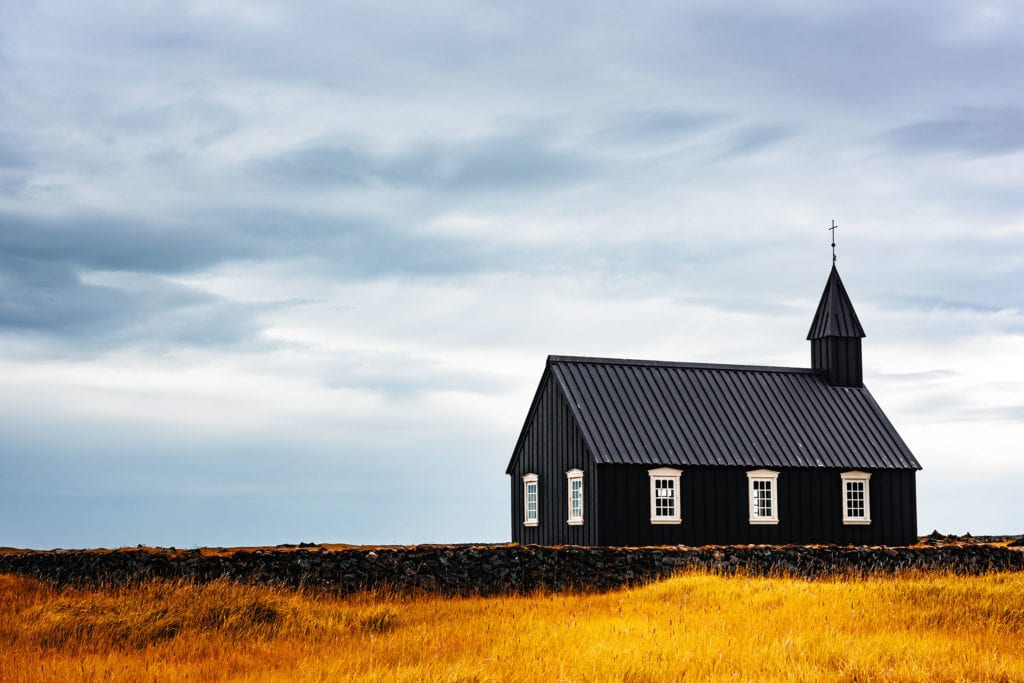 Svortuloft Lighthouse
This is a great spot to visit in West Iceland. You just have to follow the main road, 574, until you reach the edge of the peninsula. From there, head south to the lighthouse. You can simply walk along the wooden boardwalk to visit the lighthouse. The orange color of the lighthouse contrasts perfectly with the background. You will find interpretive panels on the lighthouse if you want to learn more about this magnificent location. 
Gerðuberg Basalt Columns
If you are driving from Reykjavik on Route 54, Gerðuberg Basalt Columns would be your first stop. These are massive hexagonal structures of rock that are not only a spectacular sight to behold but that you can also climb around. 
Stykkisholmur
If you want a view of the Icelandic way of life, visit the little town of Stykkisholmur. This is an adorable fishing town that has a charming harbor and lighthouse. A fun fact about Stykkisholmur – part of the film, The Secret Life of Walter Mitty was filmed here. While at Stykkisholmur, you can stroll up Súgandisey cliff for an amazing sight of the harbor and West Fjords. Enjoy the local cuisine at the Narfeyrarstofa or a kleina (a famous Icelandic donut) and coffee at Nesbrauð Bakari. 
A Walk on the Hellnar – Arnarstapi Walking Trail
Arnarstapi and Hellnar are small towns in West Iceland. Between the two is a walking trail that takes you through jagged cliffs and a glacier into the ocean. You can park at Arnastapi and walk towards Hellnar.   
Horseback Riding in Snaefellness
If you love horseback riding or want a new experience, there are several places where you can enjoy horseback riding in Snaefellness. Lysuhóll is a particular place for horseback riding. You can ride at the beach as you soak in the unbelievable scenery. You should book early, especially in peak season, to avoid disappointment. 
Skardsvik
Iceland is known for its black sand beaches that resulted from volcanic activity over a long time. If you have visited your fair share of beaches with black sand and want a change, Skardsvik is a beach of white sand worth a visit. The beach, located at the tip of the peninsula, is amazingly beautiful.
Djupalonssandur
Iceland is famous for its black beaches, and Djupalonssandur is a quintessential example. At the beach are 4 lifting stones of varying weights that fishermen used long ago to qualify for fishing boat jobs. The beach was originally a harbor, but now only wreckages of a past fishing vessel are left. 
Berserkjahraun Lava Field
The Berserkjahraun Lava Field is huge and one of Iceland's best. In the background are red mountains. This really looks like the land before time, and you should stop over for a good look instead of driving by. 
Londrangar Rock Formations
Londrangar is an iconic West Iceland landmark. The uniquely shaped rock formations are volcanic crater remains that have been washed by the sea over the years. Although these rock formations are visible from the road, walk down by the sea and look closely. You can also take a drive to the nearby Malarrif and hike to the structures from there – this should take roughly an hour. 
Visit the Village of Reykholt in Borgarfjordur
The village of Reykholt is the historical and cultural heart of Iceland. This is the home to Snorri Sturlson, one of the best-known authors in Iceland, who lived between 1206 and 1241 and who wrote The Prose Edda, which is viewed by most as the most important piece of Scandinavian literature and an immense source for Norse mythology. The village has a fascinating medieval and cultural center called Snorrastofa. Visit Reykholtskirkja, a beautifully designed church with neoclassical features and a Swiss-chalet style exterior. You can also visit Snorralaug, a tiny geothermal pool and one of the oldest springs known to be used by humans in the country. You can buy books on history and culture, Icelandic handicrafts, and souvenirs from the shop. 
Hraunfossar Waterfalls and Lava Fields
Hraunfossar, Glanni, and Barnafoss are some of the most enchanting waterfalls in the western part of the country. Hraunfossar (or Lava waterfalls) is made up of several smaller waterfalls resulting from water streaming through the Hallmundarhraun lava field. Hraunfossar is considered by many to be Iceland's most beautiful waterfall. Though it's not particularly powerful or great, it is unique and incredibly stunning. It comes from under the lava field, not from a visible river or stream, and then falls down into Hvítá river. Green vegetation surrounds the waterfall and changes to an incredible yellow-red-green painting during autumn.
Barnafoss (or children's waterfall) is located 2 minutes' hike North of Hraunfossar. This is a unique type of waterfall. It is in Hvítá itself, a milky white glacier river. This waterfall is powerful and loud, hammering on the rocks of the canyon in which it flows. The name comes from an old folktale. Two kids who were strolling over a stone arch that was over the waterfall plunged into the river and died. Their mother was so infuriated that she ensured the arch was demolished. 
 Glanni waterfall is located near the Grábrókarhraun lava field. The Grábrókarhraun lava field has an otherworldly landscape, including an oasis in the center, that makes for the perfect postcard and is home to the Surtshellir cave – the country's longest open lava cave. The waterfall is surrounded by a small, crooked birch tree. This is a mystical waterfall famous in the local folklore as the dwelling place for trolls and elves from Viking Mythology. If you are a golfer, there is a golf course nearby. Glanni, which means brightness, is a wide, segmented fall. The name comes from the elegant white water waves that are produced from the flow and the fall. If you are into fishing, you can catch salmon and other fish here. 
Langjökull Glacier
No visit to Iceland is complete without a visit to the world-renowned glaciers, and Langjökull is the second largest glacier in the country. Langjökull glacier, or 'The Long Glacier,' is the most popular glacier for hiking and skiing. The extensive stretch of the ice cap is scenic, features big manmade ice caves worth exploring, and is ideal for snowmobiling.
Háafell Goat Farm
Did you know that the Icelandic goat is classified as an endangered species? Háafell goat farm has been doing its part to protect the remaining goat population in the country. When you visit the farm, you will receive a warm welcome from the goat residents, some of whom have been featured in the Game of Thrones series by HBO. The owners of the farm will give you a guided tour. The farm has a small shop where you can buy fresh produce, including ice cream, homemade cheeses, and even skincare products. You can foster a goat, which gives you 2 free visits with your family each year and regular pictures and updates of your goat. 
Steðji Micro Brewery
If you like indulging in a pint or two, visit the Steðji microbrewery, one of the most famous microbreweries in the country. Here, you will learn about the heritage of Icelandic beer, see the brewing process (the beer is made from glacier water), and have a drink in a friendly and fun environment. Their most famous beer is brewed with whale testicles. This is a family-run brew house that also features a top selection of local beers. The location is easily accessible. A guided tour, which includes a tasting session, lasts about 45 minutes. 
Vatnshellir Cave
The Vatnshellir Cave is a lava tube that is over 8000 years old. Make a journey to the center of the earth by descending 35 meters below the surface and over 200 meters along its length. You will negotiate uneven ground and staircases during the unforgettable experience and should, therefore, bring appropriate shoes. The cave features fascinating formations that you can see in the upper part and total darkness in the lower regions. 
Breiðafjörður Bay
Breiðafjörður Bay is a wide, shallow bay that is the ideal destination for nature lovers. The area has around 3,000 islands, skerries, and islets and is home to over 50 breeding bird species, including the common shag, white-tailed eagle, and puffin. You can go on a boat tour to see most of the bay and even sample fresh-off-the-boat shellfish (Viking Sushi).  
Stop at the Erpsstaðir dairy farm
If you want to see the traditional Icelandic way of life, the Erpsstaðir dairy farms in west Iceland are worth a visit. Erpsstaðir dairy farmers produce a variety of dairy products, including skyr, skyr candy, ice cream, and cheese. 
Eiríksstaðir Living Museum
If you want to walk back in time to the Viking era, the Eiríksstaðir living museum is worth a visit. You can sit by the fire and learn about the life of the Vikings. The museum is open from 1st May to 30th September from 10 AM to 4 PM.
Hike up Grábrók Crater
If you love the great outdoors, consider a hike up the 170-meter-high Grábrók crater to break the monotony of the drive. The crater, which erupted 3,400 years ago, is mostly covered in moss. Visitors have formed a nice walking path around the crater over the years. The path is not steep, and there are great sceneries to see.
Húsafell
If you want to escape Iceland's cold weather, consider a visit to Húsafell, which has better weather. Húsafell has been a destination for Icelanders seeking warmer temperatures for decades. Húsafell particularly records high temperatures during summer months. The warm temperatures are because Húsafell is sheltered from the wind by mountains and the Langjökull glacier that looms over. There's a beautiful 4-star hotel at Húsafell, a pool, a small shop, and several hiking paths of different difficulties. 
Víðgelmir lava cave
The Víðgelmir lava cave was formed over 1000 years ago. It was inaccessible for a long time, which means the beautiful lava formations are unspoiled and untouched. You can take a 700 meters hike inside the cave on a platform (put there to protect it). The hike is easy, and even kids can participate. You will see a stunning sea of colors, different lava formations (some that look like melting chocolate), and ice formations if you visit in winter.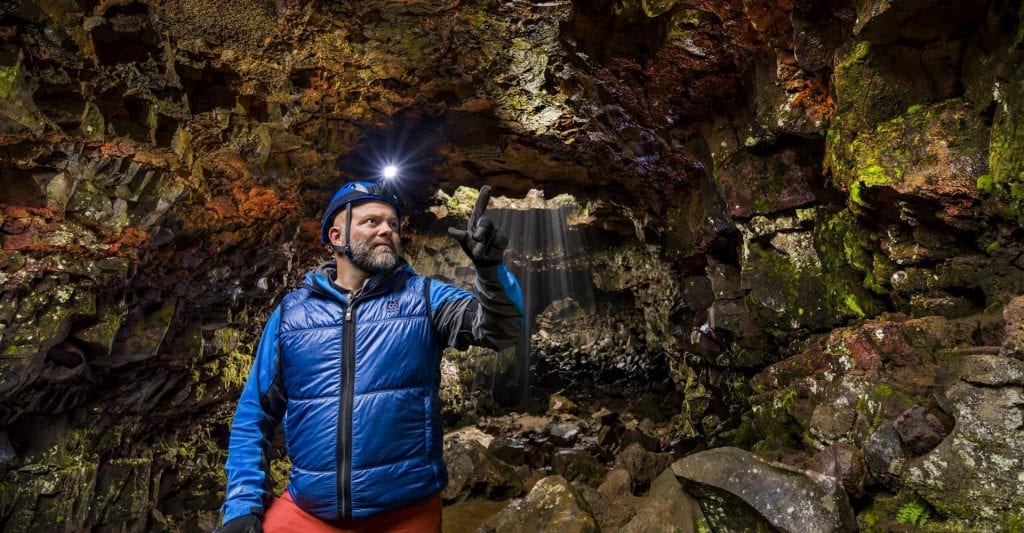 Take a Selfie with a Horse at Sturlu Reykir
If you love horses, stop at Sturlu Reykir to interact with Icelandic horses. Sturlu Reykir was recently opened by local horse farmers. On the farm, you can interact with horses, pet them, and take pictures. Icelandic horses are characterized by their small size and fluffy coating, especially in winter.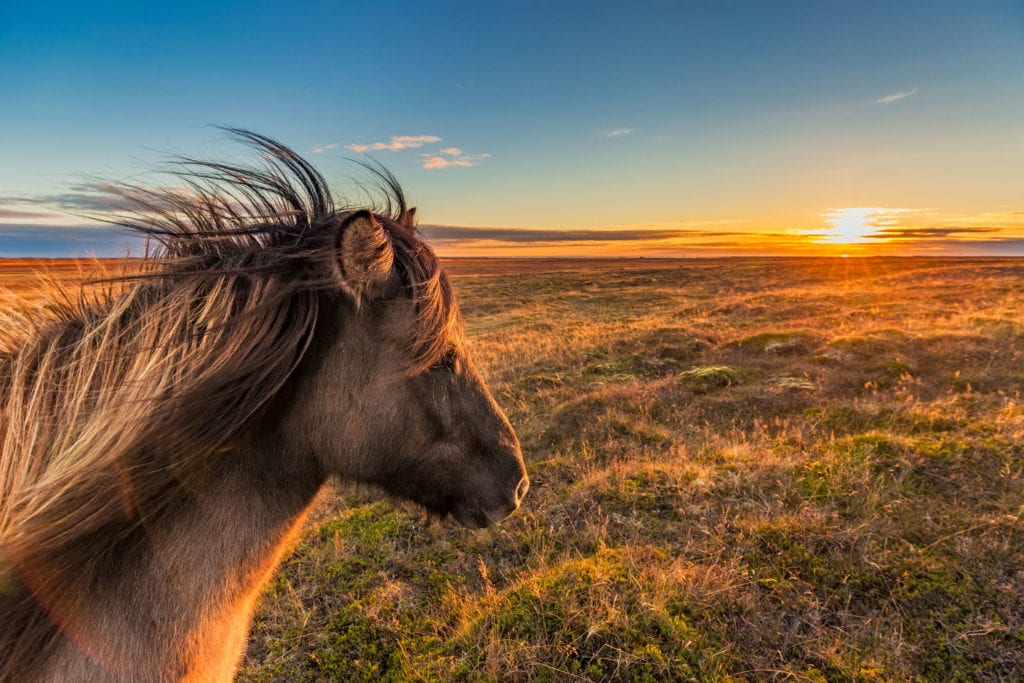 Sailing
If you love sailing, there are many sailing opportunities on the many islands, stacks, and skerries on the coast of West Iceland. The best place to sail is Flatey Island, which is accessible by ferry. There is a guesthouse and a small village that comes to life during the summer. Other than sailing, you can also fish or catch scallops with a local tour operator. 
Ljómalind Farmers Market
Borgarfjörður, an agricultural area, is home to many farms that produce different crops and animals. There are even farms that specialize in Icelandic wool. All these farmers congregate at the Ljómalind Farmers Market to sell their wares. You can buy local handcraft and produce, take a snack, or buy a souvenir. 
Hvanneyri
Hvanneyri is home to The Agricultural University of Iceland, but that is not all it has to offer. Pay a visit to the Ullarselið Wool Centre, a store set up by locals where you can learn about old and new ways of processing wool and buy a variety of hand-made items. You can also visit the Agricultural Museum of Iceland.
Langisandur beach by Akranes
The Langisandur beach by Akranes is a great place to visit on a warm summer day. Near the beach are 2 stunning lighthouses that have inspired many photographers. The larger of the two is open for a visit. You can also pay a visit to the Akranes Folk Museum.
Hvalfjörður Fjord
Just north of Reykjavík is a fjord by the name of Hvalfjörður. Route 1 (Ring Road) runs through a tunnel under Hvalfjörður, which explains why there is so little traffic here. Technically, half of Hvalfjörður belongs to West Iceland and the other half to South Iceland. Hvalfjörður is stunningly beautiful. It has a host of streams and rivers and is also home to the Glymur waterfall, considered by many to be one of the most beautiful waterfalls in the country. The U.S. Army has a base here, and some of the buildings are still intact. Hvalfjörður is also home to an old whaling station, which is the only active whaling station in Iceland since the ban on whaling was vacated in 2009. 
And there you have it! Some of the best places to visit are in West Iceland. Iceland has so much to offer, but if you are in West Iceland, we strongly recommend these stops. You will not be disappointed by the unique attractions and stunning views. If you are interested in visiting West Iceland, check out our private luxury tours.