If you can't decide whether you should visit Iceland in the winter or summer, then September is your best bet as it offers the best of both worlds. The average September temperature in Iceland is 47.3° F (8.5° C), with average highs of 50° F (11° C) and average lows of 42° F (6 C). This means you can see snow capping the mountains, allowing you to do most activities you would normally do in summer, such as glacier-hiking, snorkeling, and horseback riding. 
The weather is usually dry and calm, with an average precipitation of 67mm. You should, however, be prepared for cold weather and rain, especially at night and in the afternoon respectively. September squeezes out incredible sunny days, and the color scheme you get from nature is mind-blowing. 
Other than the favorable weather, September is a good month to visit Iceland because it is a low tourist season, meaning less congestion. You will save some money on tourist attractions and flights because September is considered the offseason. There is a lot to see and do in Iceland in September:
A View of the Northern Lights in All their Glory 
In September, nights return in Iceland. The beginning of September receives 13.5 hours of daylight, which drops to 11.5 hours by the end of the month. This makes September the best month to see the elusive northern lights – it is not dark enough to see them between April and the end of August. Enjoy this breathtaking phenomenon that most people will never get to see in their lifetime. 
So, what are the northern lights? Aurora borealis, or northern lights, are light particles (photons) that are created by the reaction between oxygen, nitrogen, and Solar Energetic Particles (SEPs) in the atmosphere. Solar flares from the sun contain SEPs. The earth's magnetic field usually deflects these particles, but this field is weak near the poles, and some of the particles make it through the atmosphere and collide with oxygen and nitrogen molecules. 
Geomagnetic storms further amplify the aurora and increase its visibility. To get the best view of northern lights, target geomagnetic storms, and dark, clear skies. It is darkest, at least 5 days from a full moon.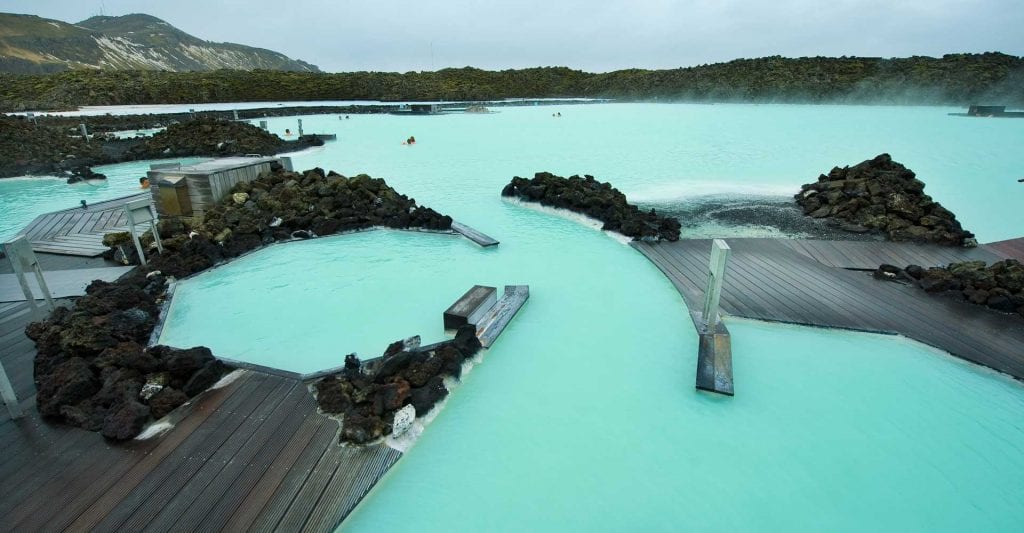 A Visit to the Blue Lagoon
The Blue Lagoon, called "Bláa Lónið" in Icelandic, is the most popular tourist destination in Iceland. This geothermal spa on the Reykjanes Peninsula, just a 14-mile drive from Keflavík International Airport and a 30-mile drive from the capital Reykjavík can be visited right before departure or straight after arrival. 
The popularity of the Blue Lagoon is due to the skin healing properties of the minerals and blue-green algae in the azure water. Those with conditions like psoriasis find relief from a dip in the silica and sulfur-filled water. The temperatures, which range from 37 and 39° C all year round, are also ideal for swimming and bathing. The water is always clean since it streams into the lagoon continuously and is completely renewed every 48 hrs. 
Other than taking a dip in the opaque and vividly blue water and having a mud bath, the Blue Lagoon also has other attractions like the Blue Café, the Lagoon Spa, The Retreat Hotel, and the LAVA Restaurant, a luxury skin products shop, a relaxation cave, a human-made waterfall, an in-water bar, an in-water massage, an indoor relaxation area, saunas, walking paths, small bridges, and scenic volcanic landscapes. 
If you have kids with you, note the Blue Lagoon has a minimum age limit of 2 years. Children between 2 and 13 can enter free of charge. 
ATV & Buggy Rides
If you want to enjoy the eclectic natural landscapes of Iceland, All Terrain Vehicles (ATV Quad Bikes) and Buggies allow you to cover greater distances and access the untamed and raw terrains. Indeed, you will easily cross terrains that hiking parties cannot. 
ATV and Buggy rides started gaining popularity in 2003, and they will immerse you in the glorious panorama that is Iceland's countryside. These mobile and adaptable machines will get you up close and personal to waterfalls, volcanic peninsulas, black sand beaches, fertile valleys, mountain passes, glaciers, and rivers that dot the Iceland countryside. 
You can take an ATV and Buggy tour throughout the year, rain or shine. A ride requires little physical effort, with most ATVs and Buggies coming with automatic gears. These tours make for memorable and bonding experiences for kids and adults alike. Your guides will give you the necessary gear and equipment, including gloves, comfortable rain/windproof overalls, a helmet, and a balaclava. Note you will be required to provide a full international driver's license and to sign a liability waiver.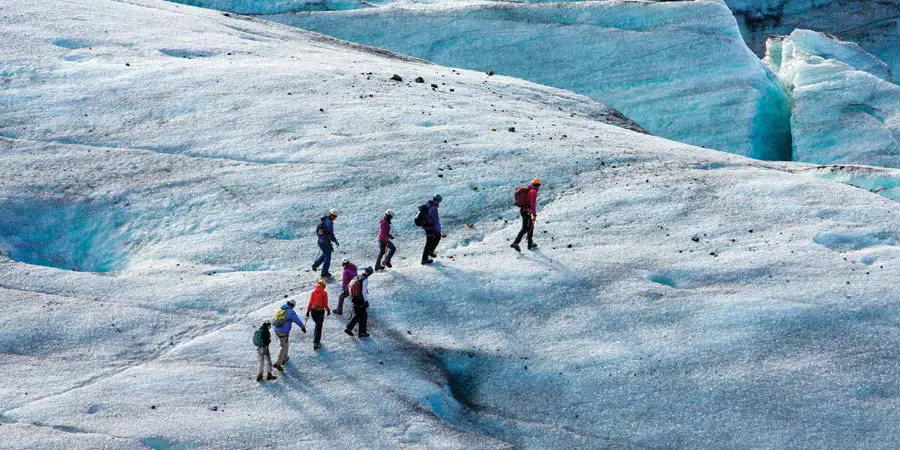 Glacier Walk
Iceland is nicknamed the Land of Ice and Fire because of the glacier and volcanoes that cover a large part of the country. Glaciers have been melting quickly since 1995 and now make up about 20% of the rivers and waterfalls in Iceland. 
Vatnajökull is the largest glacier not only in Iceland but also in Europe, with an incredible volume of 4000 km3. You can take a hike on the Vatnajökull glacier and its outlet glaciers. The stunning glacier has been the filming location of such Hollywood blockbusters as Lara Croft: Tomb Raider, James Bond: A View to Kill and Die Another Day, Game of Thrones, and Batman Begins.
Mýrdalsjökull, the fourth largest glacier in the country, also makes for great glacier walks. Between Mýrdalsjökull and Eyjafjallajökull glaciers lies the hiking trail Fimmvörðuháls – one of the best hiking areas in the country. 
Sólheimajökull, located just 2 ½ hours from Reykjavík, is the most visited glacier in Iceland. This "shrinking glacier" shrinks 65 meters every year – visit it before it is no longer there. Other glaciers worth visiting for a glacier walk include Snæfellsjökull and Langjökull, the second-largest glacier in Iceland. 
Other September activities in Iceland include:
Soaking up on the Blue Lagoon, whose waters are warm throughout the year

A visit to the museums, unique buildings, great restaurants, and cute cafés of Reykjavik

Exploring the array of fall colors in the Golden Circle

Reykjavik International film festival (RIFF), which begins at the end of September
At Deluxe Iceland, we have privately guided tours available in September. The Around Iceland package takes you around Iceland for 10 days/9 nights on the ring road and is available until the 30th September. Our Fire & Ice Luxury tour, which takes 7 days/6 nights, shows you Iceland's most popular sights, including a helicopter ride over a dormant volcano on the Reykjanes Peninsula.