The town is surrounded by a huge variety of natural and cultural tourist attractions, some of them are just at a walking distance. But Whale watching is the real reason tourists en route to Húsavík because the whales here never disappoint you; tourists are always able to spot them during their whale watching excursion into Skjalfandi Bay.  Famously known as the Whale Capital of Iceland, the Húsavík Town is located on the eastern side of the Shaky Bay and roughly an hour away from the capital of Northern Iceland, the Akureyri. It is one of the primary stops on the route of Diamond Circle, a 250-kilometer road that takes you to most of the interesting sights of the Island.  At the heart of the town is a park, with a river at the center. A walking trail from this river inland joins Lake Botnsvatn. Another attraction of the town is Husavik's Exploration Museum, it gives a brief history of everything about Icelanders and all the civilizations that have settled here.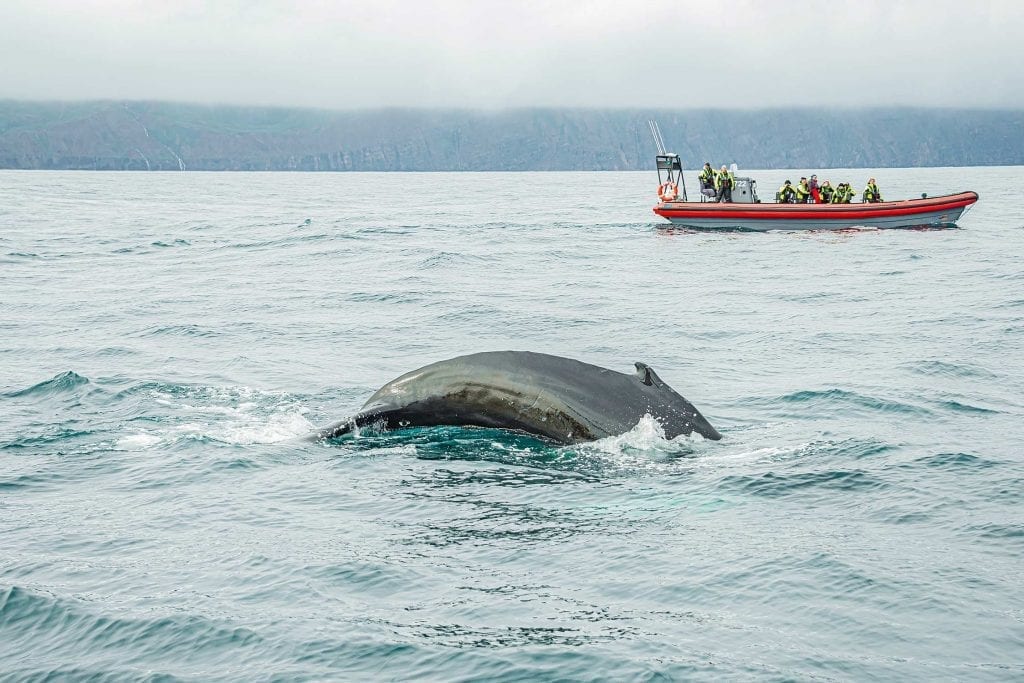 Whale Watching
Watching the Humpback whales and Minke swim is the most thrilling activity in entire Iceland, especially with snowy mountains in the backdrop. It is an approximately 2 hour activity. You are taken to the home of the whales, Skjálfandi bay, on speed boats. The boats are sailed very close to the whales, making it a dream come true to watch them leap through the air. Towards the north of the Húsavík town is Hofdi. It is a good land-based spot for watching whales and only an energetic walk to the mountain behind Húsavík. We recommend ending your whale watching excursion with a trip to the Whale Museum. The latest addition here is a real life-size skeleton of the largest mammals to have ever existed, the Blue Whales.
Goðafoss Waterfall
Amongst the most spectacular waterfalls of Iceland, Goðafoss waterfall is one that is hard to miss. It originates from the Skjálfandafljót river at a height of 12 meters, and it is over 30 meters wide. A 1000 years ago, Lawspeaker Þorgeir Ljósvetningagoði threw the pagan statues of Norse, the god, into this waterfall and made Christianity Iceland's official religion. For this reason, the waterfall is called Goðafoss, which translates to the waterfall of the gods. The waterfall is one of the destinations of Diamond Circle. It is a 45min drive from Akureyri and located just off the Ring Road. From the parking lot, it's only an easy walk down at the riverside. The view of the waterfall is a whole lot different when approached from the Eastside and the Westside. If you want to experience Húsavík and North Iceland, check out some of our luxury tours where you can see them up close.