North Iceland is very close to the Arctic Circle. You would be forgiven to think that the area is pretty cold, but in reality, it experiences some of the mildest temperatures in Iceland. The North is rich in wildlife, amazing volcanic landscapes, fjords, and other attractions. It was recently named by Lonely Planet as a top European destination. 
Touring Iceland – Important Tips
Thankfully, you no longer have to worry about Covid-19 restrictions when entering Iceland – they have all been lifted, even for the unvaccinated. 
You should plan your trip early. Although Iceland has a good tourism infrastructure, you still have to book hotels early in advance to avoid disappointment, especially in summer. You should also book your activities in advance since activities sell out during a busy season, including ferries to the Westmann Islands and popular attractions like the Blue Lagoon. 
Although airfares to Iceland are cheap, Iceland is not a cheap country to visit. Budget wisely and choose your destinations and activities carefully. 
Tourists do a lot of driving in Iceland. You will need an international driving license for this. Go for an SUV since some remote areas have poor road conditions. If you are visiting during winter, a 4WD vehicle is essential. Consider getting a guided tour where someone drives you. 
You expect to move hotels or accommodation quite a bit in Iceland unless you are willing to drive back and forth to different activities and attractions, which is not very practical. Iceland is a vast country and moving accommodation allows you to experience much more. 
You do not need too much hard currency since you can use a credit card for almost everything in Iceland.
Be prepared by ensuring you stock up on bottled water and protein bars and snacks. Iceland is vast and sparsely populated. 
Bring a raincoat and waterproof pants to avoid getting wet. Iceland is the land of ice and fire – there is water and ice everywhere. The weather is also unpredictable and it can rain any time. 
You can check road conditions and closures from the safetravel.is website. Install the 112 Iceland App for speedy and easy information transfer. In case you get into trouble, the Icelandic emergency number is 112.
Daytime hours vary by season – days are longer in summer and nights are longer in winter. Be prepared for extremes. You can see the northern lights (aurora borealis) from fall in September, and you can enjoy the midnight sun in the summer months. The sun rises at 10 am and sets at 4 pm in winter, while some days have 24 hours of sunlight in the North during summer. 
When on the black sand beaches, stay away from the edge of the water as the waves are rough with strong undercurrents.
Do not worry about the language barrier and having to learn common Icelandic words – Everyone in Iceland speaks excellent English.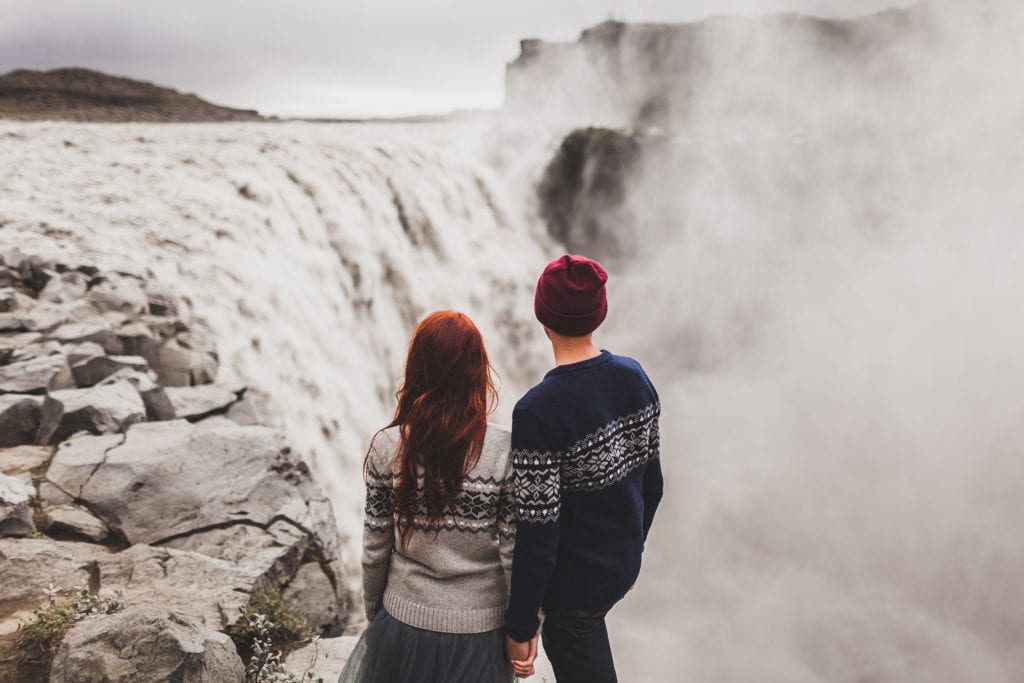 Top Places to see along the way in North Iceland
A Visit to Dettifoss – The Most Powerful Waterfall in Europe
Dettifoss in the Vatnajokull National Park is the most powerful waterfall in Europe. The name Dettifoss loosely translates to 'falling', due to the incredible force generated by the waterfall. The exhilarating power of the waterfall, which makes the ground shake as you approach it, makes this a good place to reconnect with and appreciate nature. The waterfall is immortalized in the opening scene of the 2012 movie – Prometheus.
A Visit to Goðafoss – Waterfall of the Gods
Godafoss, which is nicknamed Waterfall of the Gods, is the most awe-striking waterfall in North Iceland and one of the prettiest in Europe. The horse-shoe waterfall on Skjálfandafljót River makes for the perfect photo opportunity. 
A Visit to Lake Myvatn
Lake Myvatn is enchanting by itself. The Myvatn Nature Baths are the equivalent of the Blue Lagoon in the North, but with a fraction of visitors (and the price!). It is also surrounded by the pseudocraters Skutustadagigar, Hverfjall, which is a pitch-black crater mountain, Askja volcanic crater's turquoise blue water, Krafla caldera, and Hverarond hot spring, all worth visiting.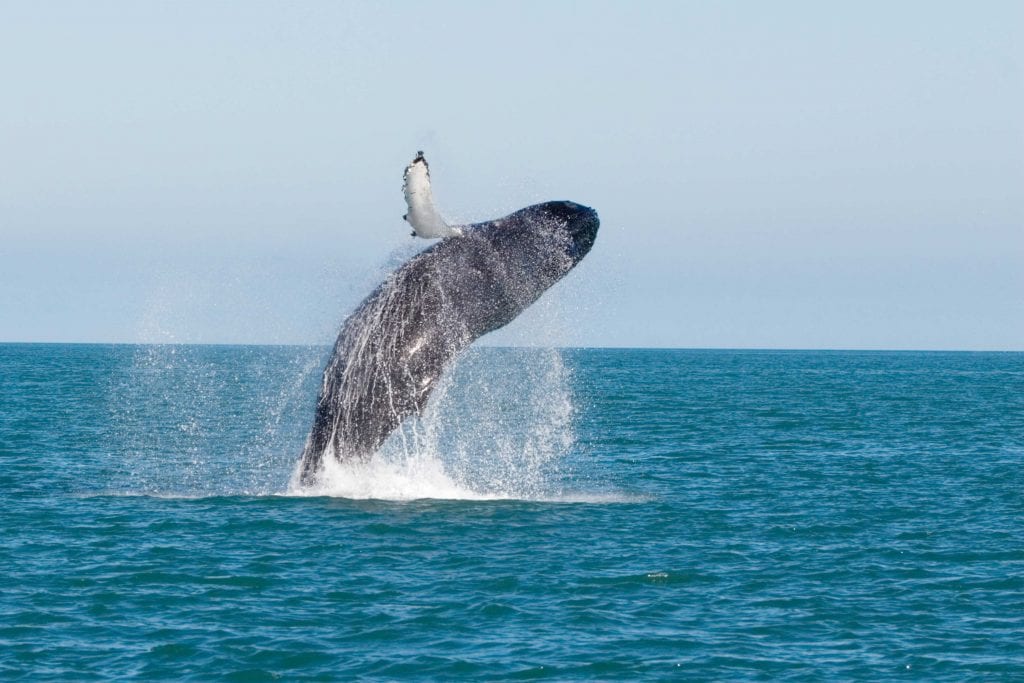 Whale Watching 
Husavik on Skjalfandi Bay is the whale-watching mecca of Europe. You get to see up to 23 species of cetaceans on a boat ride. The most common are humpback and minke whales, but you can even spot the rare blue whale. White-beaked dolphins and seals can also be seen.
Riding Icelandic Horses in Hunavatnssysla
The Hunavatnssysla region offers fantastic opportunities for horseback riding. Icelandic horses grow extensive hair in the winter, becoming complete fur balls. In summer, they shed this hair and look completely different.
Seeing the Rock Formations at Dimmuborgir
Dimmuborgir is made up of bizarre lava formations that seem out of this world. Immerse yourself in an area that has inspired much Icelandic folklore.
Hiking up Hverfell
Hverfell is a volcano that can be seen from miles away. It is black, broad, and conical. You can take a short hike to the top of the crater to have a 360-degree view of the flat landscape below. 
Other top attractions in North Iceland include:
Grettislaug hot pools overlooking a huge fjord

Basalt rocks in Hofsos

A visit to the shops, museums, cafes, and restaurants of Akureyri – the 'capital of the North'

A visit to the Lofthellir Ice Cave

A visit to the Ásbyrgi canyon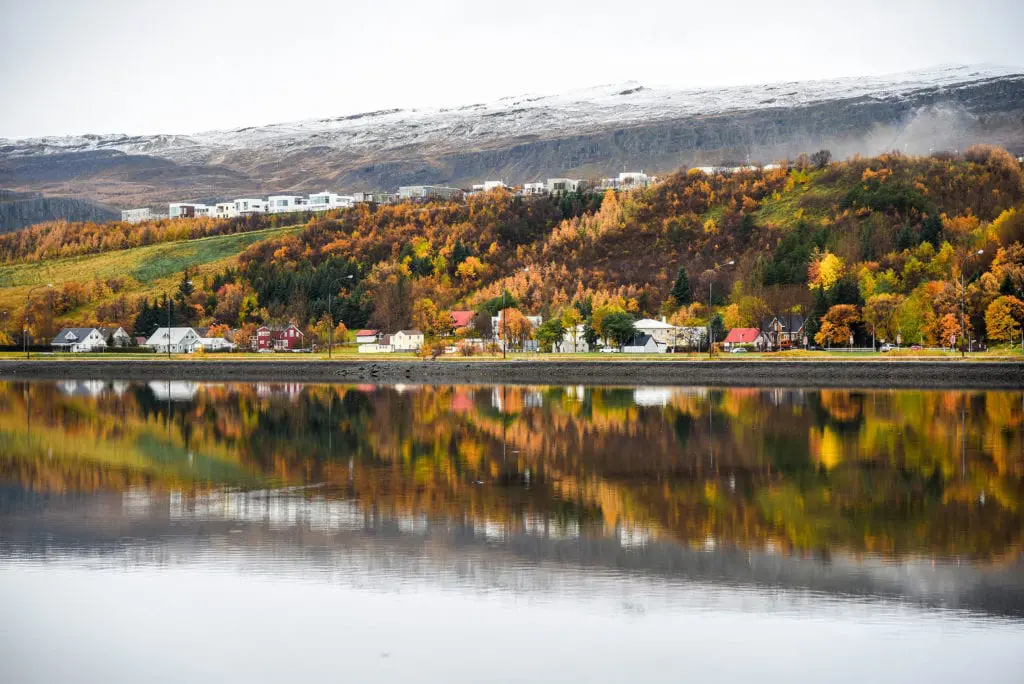 At Deluxe Iceland, we are a fully authorized luxury travel agency & tour operator. We offer different packages, including privately guided tours, private day tours, and self-drive tours for North Iceland. Our guides have vast experience, ensuring you get the most out of your tour. Our packages are customizable to fit your needs.